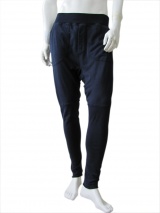 When it comes to dressing up Italian men are the perfect clothing evaluating sticks. They grew up going to tailors so they know their fashion well. They know about fit, cut, creation and the delicate way of ornamenting.
When it comes to Italian casual pants, they have some unique features which make them different from other makes. First of all, the quality of the material, most of the Italian trousers are made of quality polyester with button design. There fitting are just perfect to catch your attention. They are slim fit and don't give you the bulky look which other trousers does. The fittings, the quality of the material and the design, make Italian casual pants an ideal casual wear, which looks smart at the same time.
These trousers are available in various colors, styles and textures. You may buy a ready-made one or, if you want to add a bit of customization, you may order one.
Typical Italian casual trousers are slim fit and single colored. The bottom end of these pants is designed in such way, so that they could adjust any sort of shoe you wear. They generally have one hip pocket which could be with or without cover. One more interesting fact about Italian pants is, the trend of having pockets at the side was first noticed among them. Prior to this, pockets used to be right under the belt, like they have for jeans. Italian trousers are demanded all over the world for their style and elegance.